Are you looking for Mobile Tyre Fitting for your vehicle?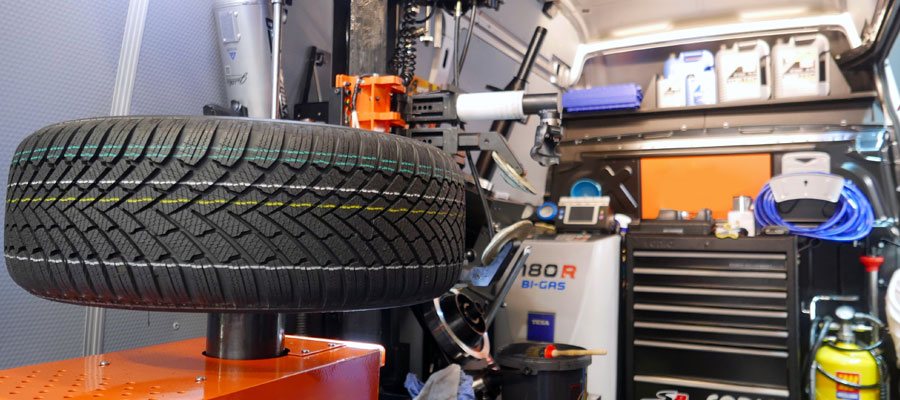 Being a tyre sales and related services specialist, Tyres Shrewsbury brings you mobile tyre-fitting services as well. If you are unable to visit our facility, we will ensure doorstep tyre delivery and fitments. In other words, you will have all our garage facilities available at your workplace or your residence.
Our mobile tyre-fitting services in Shrewsbury allows you to continue with your daily schedule, while we take care of your vehicle. We have a team of expert technicians, equipped with some of the best equipment currently available, and they will offer you the highest quality services possible.
Why Mobile Tyre Fitting?
Services at your doorstep
At Tyres Shrewsbury, we aim is to provide a hassle-free experience to our customers. Our mobile fitting services include the following:
Professional fitting of right-sized tyres. Our teams carry all the tools essential for such a procedure. Note that you must book at least two new tyres before we set out for your designated destination.
We will certainly provide new valves too.
Given enough notice, we can also fit TPMS sensors.
Our team will then balance your new wheels for safety and reliability. It is standard practice. We have mobile equipment for such work.
As the leading mobile tyre fitting garage in the domestic market Tyres Shrewsbury will help you dispose of your old or damaged tyres with care and in an environment-friendly manner.
We have many loyal clients spread throughout the county, easily making us the go-to mobile tyre fitting services in Shrewsbury.
Why choose us for mobile fitting?
There are several reasons. Some of the crucial ones include:
Tyres Shrewsbury has a vast inventory of tyres from the likes of Maxxis, Kumho, Evergreen, Yokohama, Landsail and many more top brands. We store all of their models in various rim sizes. You can, therefore, choose a new set of your choice from some of the finest summer, winter, all-season and UHP models.
You can also conveniently select and book your new tyres online in only a few easy steps.
We are absolute professionals. When you get in touch with us, we will ensure that a team reaches you as soon as possible.
Our fitment packages are reasonably and transparently priced.
Finally, we will also remove damaged wheel locking nuts, perform seasonal refits and miscellaneous repairs if you desire.
All these services have made us the most sought-after mobile tyre fitting garage in Shrewsbury.
Contact us today!
Book our service online, or call us on 0174 346 9224 to schedule an appointment. You can also purchase tyres from our page and select the option for mobile tyre-fitting at your preferred date and location.