Are you looking for All Season Tyres for your vehicle?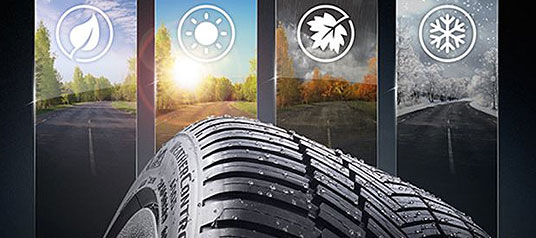 The temperature difference between summers and winters in the United Kingdom can be extensive. People often find it financially and logistically binding to purchase and maintain two sets of tyres - one for summers and one for colder times.
This is where all-season tyres come in. These special tyres - also known as all-weather wheels - have the best of both worlds: they have the agility of summer wheels and the stability of their winter counterparts.
If you live in or around Shrewsbury, you will find the broadest range of these tyres at Tyres Shrewsbury. We are the most reliable retailers of all-season tyres in Shrewsbury.
What makes all-season tyres unique?
These models have intermediate rubber carcasses which are neither too hard nor too soft. This property makes them capable of handling roads in mild wintertime. Their tread patterns are different; with their extra grooves, they are able to resist aquaplaning.
There are several advantages of using all-season wheels:
Saves you the cost of buying separate tyres: If you buy a set of summer car tyres in Shrewsbury, you won't be able to use them in peak winters. You will then require a set of winter wheels. A set of all-season tyres solves this issue.
Better performance in both summers and winters: When you buy a set of new all-season tyres, you can easily cruise through almost the entire year. Note that when the temperature drops below 7° C, you must switch to winter wheels.
Longer life: On average, all-weather tyres last longer than other types. Their moderate tread depth can resist erosion to an extent. Plus, they are not as heavy or as grooved as winter tyres, making them last longer during warmer seasons.
Superior ride quality: Experts state that these tyres provide rides as comfortable as summer tyres. Besides, you can buy all-season tyres in Shrewsbury at Tyres Shrewsbury for all your vehicles, regardless of size and weight.
Wondering about all-season tyres near me?
You will get a fine selection of all-season tyres only at our facility. We stock products of a number of manufacturers, including of reputed brands like Maxxis. All our products are available for both offline and online sales.
Come down to our shop on any working day.